South Roanoke United Methodist Church Staff
Michael D. Copeland, Pastor
The Rev. Michael D. Copeland assumed the pastoral responsibilities at South Roanoke United Methodist Church on June 29, 2016. Pastor Michael was born and raised in Oak Ridge, Tennessee. He studied sacred music as a voice major for two years at Carson-Newman College before attending the Oklahoma Baptist University where he graduated with a Bachelor of Arts Degree in Elementary Education. He received his Master of Divinity Degree at the Southeastern Baptist Theological Seminary in Wake Forest, North Carolina. Michael met his wife, Donna, while he was a seminary student. Since graduating from seminary, he has completed Clinical Pastoral Education at the Medical College of Virginia Hospital in Richmond.
Michael worked his way through college and seminary as a church musician and also taught third grade for a semester between college and seminary. He served Southern Baptist churches as an Associate Pastor and Pastor before entering the Virginia Conference of the United Methodist Church in 1988. He enjoys History, reading, music, a little golf and University of Tennessee football.
Michael came to South Roanoke Church after leading the Church of Good Shepherd in Vienna, Virginia in transitional ministry for one year. He has previously served small, rural churches as well as mid-sized congregations in different districts of the Virginia Conference. Michael has served three pastoral appointments for five years each while early appointments were served from two to four years.
Donna Copeland was born in Charleston, West Virginia and grew up in New City, New York until her family moved to be near her mother's family in North Carolina. Upon graduation from high school she completed her studies in cosmetology at the Campbell-Mitchell Hairstyling Academy in Roanoke Rapids, North Carolina. She worked as a hairstylist for ten years. She has also worked as a receptionist at an office furniture store in Greensboro, N.C. and as a bank teller in Essex County, Virginia. She has spent most of her adult life as a full time housewife and mother.
Donna enjoys knitting, cross stitching, music and reading. She is passionate about prayer shawl ministry and she especially enjoys the Copeland's pet parakeet Jazzy!
Michael and Donna have two young adult children. Their son, Samuel, is a graduate of James Madison University and he is currently active duty in the United States Air Force. Samuel is married and has a step-son. Their daughter, Leah, is a graduate of Roanoke College. Leah spent four years teaching in the public school system in Fairfax, Virginia. She is currently taking a leave of absence from teaching and working as a certified fitness trainer. Leah is also married.
Click here to email Pastor Michael
---
Paula Coker-Jones, Minister to Youth and Children
Paula is the Minister of Youth and Children and has been since 2004. Paula is a mom of three children: Dkoa, Quaid and Nava and has been married to Evan Jones for 14 years. Paula is from South Florida but moved to Roanoke in 1999. A die hard Florida State Seminole, Paula loves college football season. Paula is in charge of Youth & Children's Ministries including College, SRUMCY, Small groups, PMM, Jr. Mints and Jelly bellies as well as small groups that meet weekly at the church. Paula feels strongly that children and youth are the future of church and that we need to share the love of Christ with each participant through devotion, prayer, worship and play. Please contact Paula if you have any questions regarding these ministries at SRUMC.
Click here to email Paula
---
Richard McClure, Minister of Music
After earning a Masters Degree in Music with additional post graduate study in conducting, Ric spent the earlier part of his career as a Vocational Church Music Director in Oklahoma and Texas. During that time he also performed on the trumpet with the Oklahoma City Symphony and Abilene Philharmonic. In 1987 Ric moved to the Roanoke area where he currently serves as Music Director for South Roanoke United Methodist Church. He also is Music Director and Conductor of Valley Chamber Orchestra at Hollins University.
In his free time Ric enjoys landscaping and playing trumpet for local theatre productions.
Click here to email Ric
---
Judith Clark, Organist and Accompanist
Judy Clark feels privileged to play the 45-rank 4-manual Moller organ at South Roanoke Church. An organ student of Richard Cummins, she has made several recordings on the instrument. A pianist since age 5, she especially enjoys musical collaborations and looks forward to helping develop special programs at the church. Judy is married to Richard Clark, and they will celebrate their golden anniversary in 2017. She has been organist at South Roanoke Church since 2009. Formerly Executive Director of Opera Roanoke, she now directs Young Audiences – Arts for Learning in western Virginia and works as a freelance accompanist. Judy earnestly believes in music's ability to draw humanity into relationship with God. She believes that music can ennoble and nurture people of all ages and is delighted to work in a church that recognizes its value.
Click here to email Judy
---
Keysha McNeil, Director of Christian Education
To let you know a little about myself, I have been married to my husband, John, for 18 years this month. I am the mother of two wonderful boys, Ty and Owen. Ty will start high school at Patrick Henry in the fall and Owen will begin 2nd grade at Crystal Spring. I was raised in church from birth. My parents' rule was, "when the church doors are open, we are there." I attended a Christian school from kindergarten through graduation and then onto Christian college and law school. I worked in the legal field for a few years until I became a mom.
I have always been heavily involved in church, including teaching and music, and I have always felt a call on my life to be in ministry. A couple of years ago, when my youngest started pre-school, I took a leap of faith and began working in a large church. I knew instantly I was where God wanted me. He has led me a few places since then and ultimately here to South Roanoke United Methodist.
I love the Lord with all my heart and have a desire to serve Him wherever He places me. My goal in this position is to provide educational tools that will help our members grow in their faith and love for the Lord. I will also be working to build our children's ministry and ensure that those already here and those to come will be rooted and grounded in faith. Thank you for giving me the opportunity to serve you.
Click here to email Keysha
---
Kathy Kuelz, Administrative Assistant
Kathy came to South Roanoke UMC in March of 2012 after serving as Office Manager at First Presbyterian Church, in Waynesboro, VA. since 2008.
Her job is to assist the minister and other officials of South Roanoke United Methodist Church by managing the secretarial and administrative requirements of the church, and delegating or communicating tasks related to office management, church calendar, event updates, telephone services, publications, and correspondence. She enjoys her job and working with the staff, officers and members of SRUMC.
Kathy has been married to her husband Karl for over 32 years. They have 2 grown, married children and 2 grandchildren. She enjoys gardening and spending time on Smith Mountain lake with Karl and their three dogs; Annie, Jazz, and Rondo. You can reach her at the church office Monday - Thursday at (540) 344-4437 ext. 10.
Click here to email Kathy
---
Brent Woodford, Bookkeeper
Brent started working for South Roanoke UMC on January 10, 2017. He has 40 plus years of financial experience including 25 years of commercial credit management. Brent is a Roanoke native and lives in the Huntington Court area of Roanoke City.
He also is employed as a office manager for a local auto repair service since 2011, and is an adjunct professor of accounting at American National University in Salem. Brent is a hokies fan and a 1976 Virginia Tech College of Business graduate. His work hours are Mondays and Wednesdays.
Click here to email Brent
---
Sara Grochowski, Preschool Director
My family and I love living in Roanoke, and I really love this beautiful neighborhood. I grew up nearby and got my B.S. degree from VA Tech, so this whole area is home to me. I have been affiliated with SRUMPS since 2004. My two daughters graduated from SRUMPS (one with perfect attendance for two years!) and they still enjoy coming back to visit. After helping in Mother's Day Out, teaching the Toddler Class, and being Assistant Director, I am proud to be in my 2nd year as Director. I believe in enabling children to learn new things, expand their capabilities, feel proud confidence in their accomplishments, have fun while doing it, and all under the umbrella of a loving Christian environment. In my spare time (ha, ha) I love to read, cook, and shoe shop.
Click here to email S
ara
---
Ugurtha Gregory, Housekeeper
---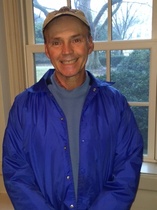 Darrell Hensley, Maintenance
---